Foreign Journalists working in Thailand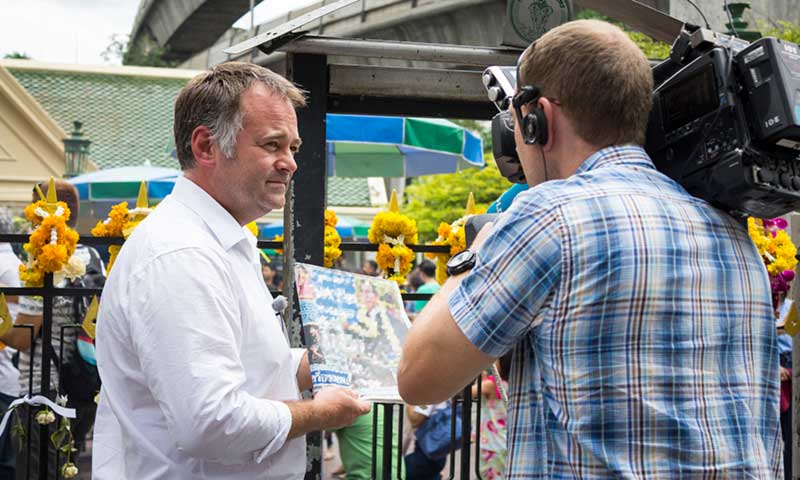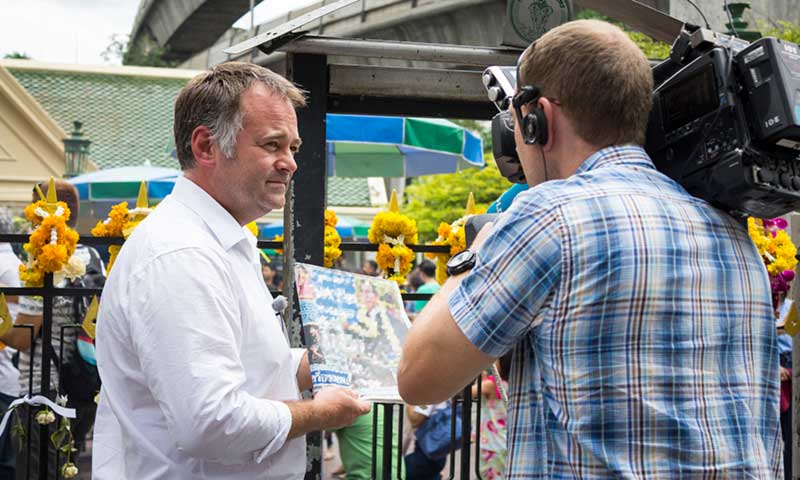 If you are a foreign journalist going to or wanting to work in Thailand then there are a few basic rules which you need to meet. The requirements for a work permit in Thailand for a foreign journalist is listed as follows by the Foreign Correspondents Club in Thailand. Note what needs to be applied for and also the procedure as it is not the same as other work permits.
To work in Thailand legally you need to have the following:
 a valid press card;
 a Thai visa normally a Non Immigrant "M" visa;
 a valid Thai work permit.
Now you first need to obtain a press card as this means an application to the Public Relations Department (PRD) of the Thai Government. We have listed their address and contact details below. In order to obtain this press card you need to:
1. Eligible Applicants and Validity
Correspondents of magazines, newspapers, foreign news agencies, and also for radio and television stations. Note that this card is valid for 1 year only.
Thai citizens who work for foreign newspapers or agencies, and also those who work for radio and television stations. The card is also only valid for 1 year.
Local correspondents in Thailand, and also radio and television representatives going abroad on temporary missions. The card is valid for the period of assignment.
2. Press Card Application Requirements
A copy of the application form and one photo (2 inches). The application form is available at http://thailand.prd.go.th.
An acknowledgement letter issued by the Department of Information, Ministry of Foreign Affairs verifying the correspondent's status
An accredited letter issued by the agency's headquarters addressing to the "Director-General of the Public Relations Department, Office of the Prime Minister"
A photocopy of valid passport, visa, and (in case of renewal) work permit
Application fee 50 baht
Once you have obtained your Thai visa "M" and have now obtained a press card you need to apply for a work permit to start working in Thailand. Note the contact details for the Thai government departments as well as the address of the Foreign Correspondents Club in Thailand.
Thai Foreign Office

Thai Government Press Division

 

Public Relations Department
Department of Information
7th floor
Ministry of Foreign Affairs
9, Phaholyothin Road Soi 7 (Soi Aree Samphan)
Si Ayutthaya Road
Phyathai, Bangkok 10400
Phyathai, Bangkok 10400
 
Tel: 02-6182323 ext. 1713, 1715
Tel: 02-2035000 ext. 22005, 22008
Fax: 02-6183637
Fax: 02-6435106-7
(BTS: Aree Station)
| | |
| --- | --- |
| One-Stop Service Center for Work Permit | The Foreign Correspondents Club of Thailand |
| Jamjuree Square Tower, 18th floor | Penthouse, Maneeya Center Building |
| 319, Phayathai Road | 518/5, Ploenchit Road |
| Pathumwan, Bangkok 10330 | Pathumwan, Bangkok 10330 |
| | |
| Tel.: 02-2091100 | Tel: 02-6520580-1 |
| | Fax: 02-6520582 |
| |   |
| (MRT: Sam Yan Station) | (BTS: Chitlom Station) |